The Fishing Wire – February 24th, 2020.
LIVETARGET is a global brand, well known for its Match-the-Hatch® profiles and colorations. The realism achieved in their products was once unimaginable. The company has spent a decade mastering the science of making fishing lures of all kinds; hardbaits, softbaits, hollow body, wireframe, swimbaits and spoons – all with incredible anatomical detail. Winning 10 ICAST Best of Show awards in the past 10 years is proof that this product development team is at the top of their game. 
LIVETARGET is now positioned to leverage their expertise and new technologies to create incredibly life-like actions by incorporating physics into their already complex design process. What is being created in the LIVETARGET lab is something the fishing industry has never seen before. 
"We're very good at making a lure look life-like, now we'll make it behave life-like", says the company's Chief Technology Officer, Tobias Wiegand. "Technology is rapidly evolving and we're on the cusp of taking it to the next level". With literally hundreds of different lures and styles to choose from, anglers have more options than ever before.  Wiegand adds, "Many anglers believe that every conceivable lure has already been designed and there is no room left for innovation". The product development team at LIVETARGET strongly disagrees.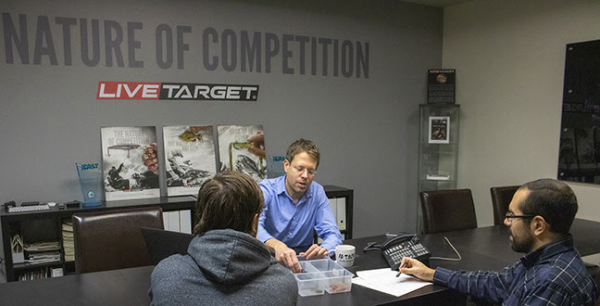 Imagine a thin profiled minnow darting and flickering along a rocky ledge. It suddenly stops, tilts to a 45-degree angle and begins to peck at miniscule forage off a rock. It continues its path, feeding from rock-to-rock. Now imagine an artificial lure that precisely mimics that natural feeding behavior. It's coming…
How about a frog that leisurely strokes across the surface from pad-to-pad? It dives to the bottom to seek protection; perches on its hind quarters, and then thrusts in a random direction to the next hiding spot. It's coming too… 
Ever witness a bluegill raid a bass nest? Bass eggs are a common forage during spawning season, and panfish have a particular way of robbing eggs from a defensive bass. Only from the minds at LIVETARGET, those baits are coming too.
In fact, coming down the pipeline are three new lure platforms that will yield the way to hundreds of new products, all with out-of-the-box applied physics that give every lure a unique species-specific life-like motion. "Everything in the queue is unique," says Wiegand. "Everything we're designing has never been done before and it all aligns to our core belief, Match-The-Hatch".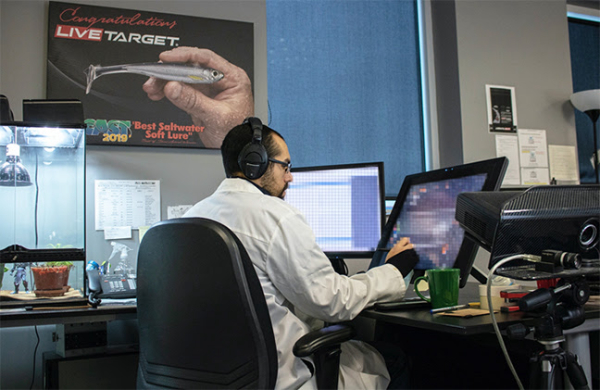 These new designs will offer anglers much more than realistic motion and appearances – they'll be solutions to challenges that have existed for years. Think about how often you've wished a specific lure didn't require upsizing to reach deeper zones? It's solved. How about a small profiled bait that will cast further, have more vibration, carry a larger heavy-duty hook and trace dark water where target gamefish are suspended? That's also solved. Lightweight baits that track deeper without adding weight or gaudy customizations, hybrid lures with adjustable actions, how about a crankbait with a tiny lip that can be fished off a 30' ledge with ease? Also solved.
"We want to make it easy for the end-user", Wiegand admits. "These new baits will be balanced out of the package. They will require no tuning and will stay tuned, even after catching big fish. Our new modular lures will be easy to assemble and adjust. The process of rigging our baits will be simple and no experience or skill will be required". 
"The nucleus of our company is product development", explains Wiegand. "Every leg of our business; finance, sales, marketing, production and logistics is tethered together to support the birth of our products. While the lab techs at LIVETARGET have been buried in conceptual design for the past 16 months, the other branches of the company have been restructuring to support the 2021 launch.  
In the meantime, dealers and media can expect five new exciting ICT baits which will be released at ICAST this coming July 2020.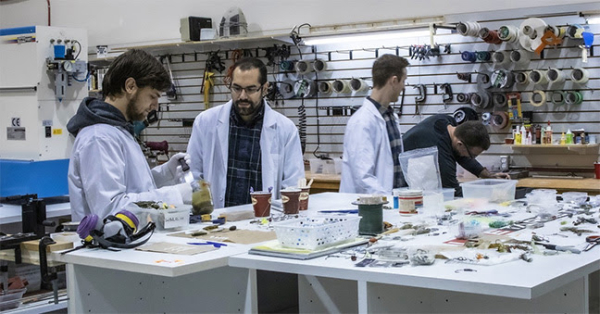 See here for Live Target products we inventory.
Contact Us for current inventory and ordering details.